What is the Interactive Users report?
The 'Interactive Users' identifies the participation rate aggregated over the selected time period and also over time.
SWOOP classifies an 'interaction' as a post, reply, reaction or @mention in a Microsoft Teams channel. At least one interaction within the selected time period is required to be considered as 'interactive'. Interactivity does not include simply logging into the platform and/or reading content.
The shorter the time period selected, the lower the Interactive Users percentage will be, so paying attention to the trend over time is the best way to monitor progress.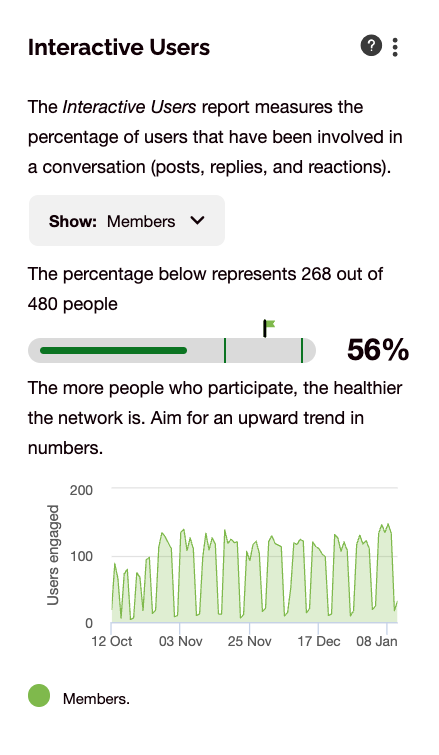 How to use Interactive Users
Team Context
For a Team, there are few circumstances where team participation should be less than 100%, other than when the team size is substantially more than the recommended 'double digit' size, or the selected time frame is short. Participation over time is provided to identify trends.
Enterprise and Segment Context
For a highly functional team-based organisation, one would also anticipate this figure should be close to, or at, 100%. Where teams are co-located and using the digital Teams platform as a complementary interaction platform, the participation could be lower than 100%. That said, our experiences with email suggest that even co-located teams will use digital channels to record interactions for review purposes.
It is possible that senior managers may gain their insights outside of the digital platform and therefore are only part- time participants.
We suggest setting the time period to a longer period, say six months or even a full 12 months, and reviewing this report. It is hard to argue that participation over this longer period should be much less than 100%.
Connect and discuss
Want to talk with others about this? Join our User Group on LinkedIn.