With SWOOP you can get insights about files that are associated with one or more Teams in Microsoft Teams.
Please note that File Statistics must be enabled to appear. See further below on the steps required to do this.
Included: Files associated with a Team Channel
For example:
Files uploaded/modified in Team Channel in Microsoft Teams (the 'Files' tab)
Files uploaded/modified before, during or after a meeting being conducted within a Team Channel in Microsoft Teams
Excluded: Files not associated with a Team Channel
For example:
Files uploaded/modified in chat messages
Files uploaded/modified during or after ad-hoc meetings not set up with in a Microsoft Teams channel
Files uploaded/modified before, during or after a scheduled meeting not set up within a Microsoft Teams channel
How it works
File Statistics are available at the Enterprise, Segment, and Team level.
Enterprise
On the Enterprise dashboard, SWOOP will show you the total number of files are stored and how many new files have been created or modified during the selected date range.
SWOOP will also show the percentage of people who are using Teams to store files within a Team, and the percentage of Teams that are storing files.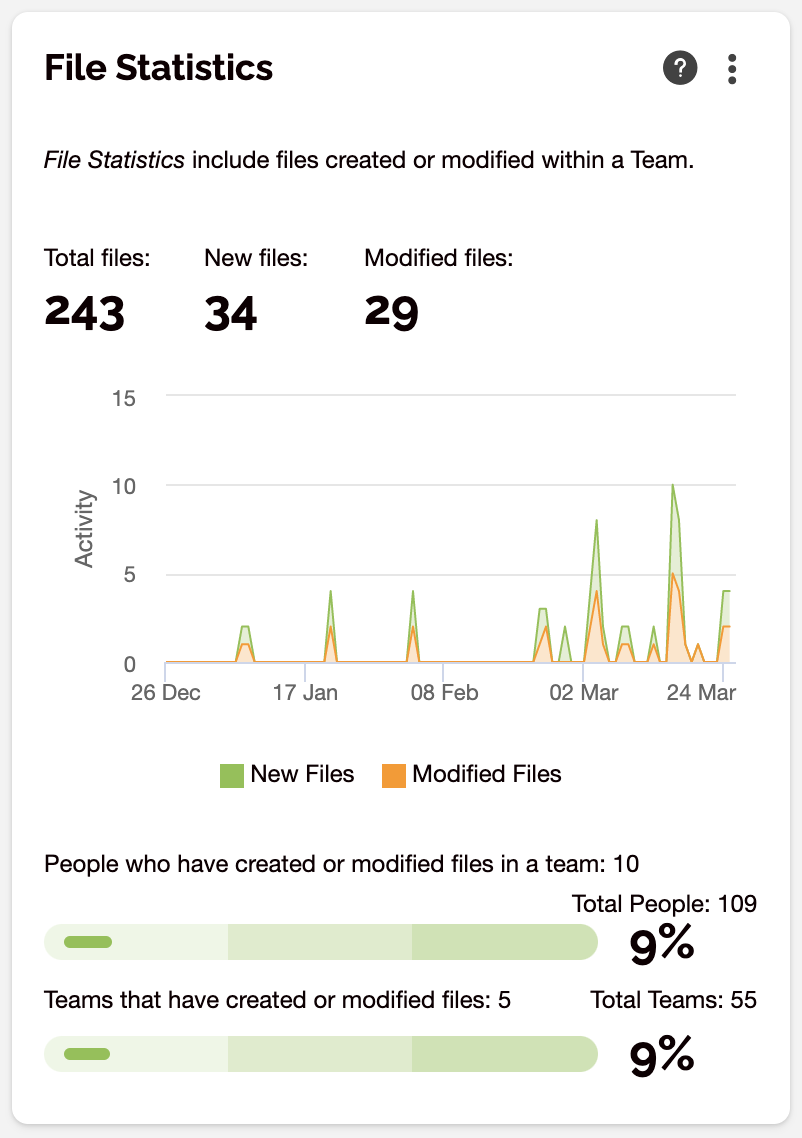 Segments
File Statistics for segments provides similar insights as at the Enterprise level. The only difference is that the statistics are only based on the people who belong to the particular segment(s) that you have chosen.
Teams
File Statistics are also available for each team. Here you can see how many files the team has stored in total and how many have been created and modified during the date range.
In addition, a list of the most recently created or modified files are shown:

How to set it up
File Statistics is not enabled by default - this is because some additional permissions need to be provided to SWOOP's data miner. Note that step 2 (see below) can only be performed by a Microsoft 365 Administrator.


Step 1: Submit a request to have File Statistics enabled.
Log on to SWOOP.
Click on the menu next to your name and select 'Request Support'
In the request specify that you would like to have File Statistics enabled
SWOOP will then validate the request and initiate a set of steps to activate the data mining components required for you to opt in.
You will receive an update when you can proceed to step 2.


Step 2: Log in to the data miner
Note: Only an Office365 Administrator can perform this activity.
Click 'Admin' in the bottom left fly-out menu in SWOOP then click on the 'Miner' dashboard (only visible to admins)
Click on the link to your data miner in the dashboard, and log on using the link provided.

Step 3: Assign permissions to the SWOOP data miner
Click 'Start Consent Process':

After you've clicked the 'Start Content Process', you will need to approve that SWOOP's data miner is given the permissions listed below. The new permission SWOOP is given (in addition to what has already been granted) is 'Read files in all site collections'.

Once you have accepted this permission set you will get this confirmation screen:




The permissions you have provided the SWOOP data miner are also documented in the Azure Portal:
That's it. You've now enabled file statistics in SWOOP.


How to deactivate File Statistics
There are two steps involved in deactivating File Statistics:
Remove the 'Read files in all site collections' permission (as per screenshot above)
Submit a support request to SWOOP to disable the report in SWOOP for Teams
After SWOOP has received and processed your request you'll be asked to log in to the SWOOP data miner again to authorise the new permission set which now excludes 'Read files in all site collections'.