When you set a goal to achieve something specific, you are much more likely to achieve it. Ambitious goals also turn out to be more motivating than goals that are easy to achieve. That is the reason SWOOP includes a goal setting feature.
Please note that in this first iteration of goal setting for Teams; we include only goals for Teams operating in Channels. The viability and relevance of setting goals for chat, calls and meetings will be determined at a later stage.
Since 2015 we have done extensive research into how organisations, teams, groups, communities and people collaborate on Microsoft Teams, Yammer and Workplace and we have published this in our annual benchmarking reports which are freely available at www.swoopanalytics.com/benchmarking.
Our ongoing investment in benchmarking since 2015 has enabled us to form a comprehensive picture of what 'good' looks like, and we now feel confident we have been able to find the important signals that can provide insights into collaborative performance. Using an Olympic team analogy, we can measure resting heart rate, body mass and other important performance metrics for each athlete, for each team, and for all the teams in different sports. We also know what athletes from other countries are achieving. This will help you focus your attention on where it will provide the greatest return.
The goal setting feature is available for all SWOOP for Teams dashboards and nearly all quantitative metrics. The goals are set up as minimum, maximum or a range. For instance, the Response Rate has a minimum goal of 50% replies to posts. Once you reach the 50% you are achieving what the top 20% of organisations achieve.
You will need to set a date range covering at least three months to be able to see and adjust the goals. This is because the default goals are sensitive to shorter date ranges.
SWOOP provides a suggested default goal where we have the data to back it up, i.e. based on our benchmarking data set. For quantitative measures where you do not see a goal flag in SWOOP, you can set a goal yourself. For example, in the Response Rate measurement (see below) we include a default goal of minimum 50% of posts having received a reply, but there is no default goal for Likes or for how fast those replies should come, but you can set that if you want to.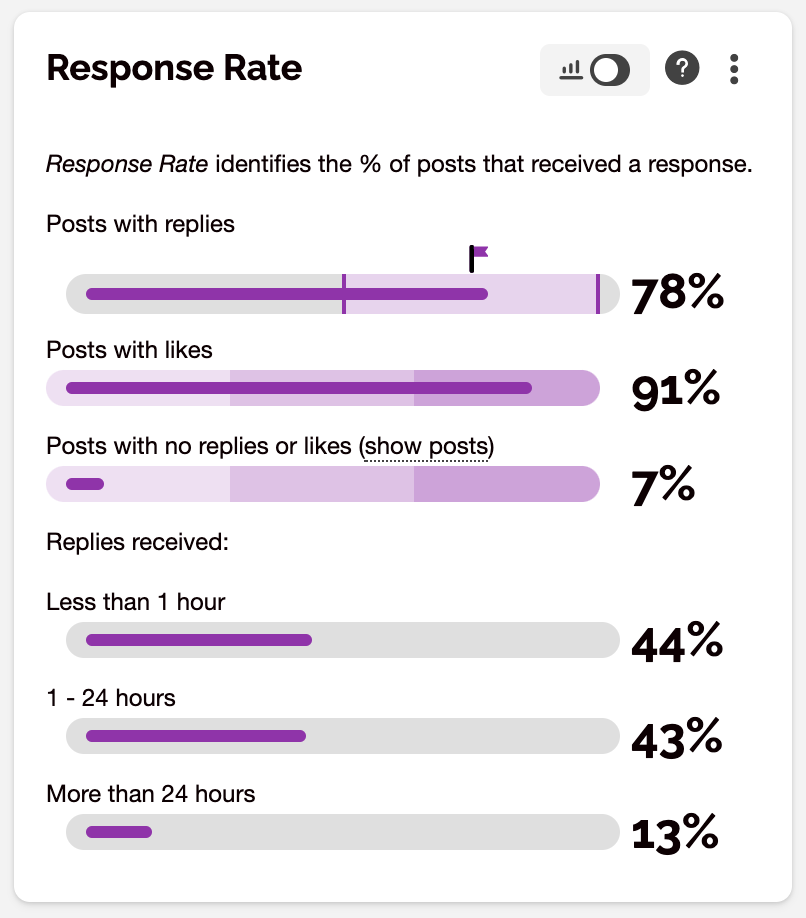 The default goals provided by SWOOP are set to what the top 20% in our benchmarking data have achieved. Undoubtedly, that will be ambitious for some and worth striving for. However, for others it may not be right given an organisation's particular stage of adoption or unique context. Therefore, we allow you to adjust the target.
Enterprise, Team and Personal goals (Channel interactions)
Our global benchmarking reports showed us that goals do not scale, so they need to be adjusted for the size of the group of people they relate to. Therefore, SWOOP provides different goals for the same measures at the Enterprise, Team, and Personal level. First, we will explain what the metrics are, and then we will show what the goals are for each level.
SWOOP Measure
Description
Why it is important
Interactive Users
Percentage of users who have taken a tangible action such as a post, reply or like. Reading, browsing, joining or leaving groups is not included.
Collaboration is a 'contact sport,' and you need a broad base of active participation to get the large-scale benefits.
Team Personas
The percentage split of Teams into the various SWOOP Team Personas: Self-directed team, Single-leader team, Community or Forum. In active teams are not included.

The Team Persona will tell you how your Team is currently interacting.

Team productivity relies on matching the way your team works together, ie your  Team Persona, with your team's charter of purpose and objectives. 

The Self-directed team type is by researchers closest associated with a high-performing team.

Read more about the Team Personas.

Curiosity Index
Percentage of messages (posts and replies) that includes a question.
The degree to which an organisation looks to improve through exploring better ways, challenging, and questioning the status quo is a strong indicator for innovation.
Mention Index
Percentages of posts that include one or more @ mentions.
Mentioning someone relevant in a post leads to more replies, thus is a powerful way to engage others in a conversation.
Multi-Group Participation
Activity participation in multiple groups. The Diversity Index at the enterprise level is the average of the scores for each person.
Successful innovation is regularly linked to diversity in an organisation. An individual with high diversity would be equally active across a broad range of Communities/groups.
Two-Way Relation-ships
Calculates the proportion of connections that are reciprocated, e.g. you replied to my post and I replied to yours.
Two-way relationships indicate a stronger and more cohesive network. Trust is higher, and organisational speed is faster.
Persona Distribution
The distribution of people by 'active' SWOOP Personas, i.e. Broadcaster, Responder, Catalyst and Engager. Observers are excluded.
Getting the right mix of personas represents strong collaborative patterns across the enterprise.
Enterprise goals (Channel interactions)
The following default goals represent what the top 20% of benchmarked organisations have achieved:
| | |
| --- | --- |
| SWOOP Measure | Default Goal |
| Team Persona Distribution: Proportion of Self-directed Teams | >70% |
| SWOOP Persona Distribution: Proportion of Engagers | >70% |
| Interactive Users | >70% |
| Two-Way Connections | >60% |
| Multi-Group Participation | >35% |
| Curiosity Index | >30% |
| Mention Index | >15% |
Team goals
The following default goals represent what the top 20% of benchmarked teams have achieved.
SWOOP Measure

Small Group

(1-50)

Interactive Users
100%
Response Rate
>85%
Two-Way Connections

>80%

Multi Group Participation
>35%
Curiosity Index
>20%
Mention Index
>15%
Team Stability
>70%
Personal goals
These personal goals are derived from the Enterprise and Teams goals:
| | |
| --- | --- |
| SWOOP Measure | Default Goal |
| Two-Way Connections | >90% |
| Multi Group Participation | >80% |
| Curiosity Index | >17% |
| Mention Index | >10% |
| Response Rate | >50% |
How default goals were arrived at
The default goal is based on what the top 20% highest performing organisations, teams and individuals have achieved. Therefore, SWOOP's default goals are ambitious but realistic, but we'd strongly recommend that you consider if the standard goal is relevant for your particular context, and SWOOP provides the ability for you to adjust the goal accordingly.
Adjusting the default goals
When the default goals aren't quite right for you, you can simply change the goals. There are 3 different goal types:
Minimum goal: For example, you can set a goal of minimum 75% of posts must get a reply.
Maximum goal: For example, you can set a goal of maximum 10% of messages are replied to in 24+ hours
Range goal (min plus max goal): For example, you can set a goal range of min 75% and max 85% of posts get a response.
Who can change a goal?
Depending on the dashboard and your permissions you can change goals.
Normal user
A normal user can:
Change the goals on your Personal dashboard
Change the goals on the Team or Segment dashboards
If you adjust the goals for a team or a segment then your name will be recorded against this along with the date it was adjusted.
SWOOP Full Admin
In addition to the above, a SWOOP Full admin can:
Change the goals on the Enterprise dashboard
If you adjust the goals on the Enterprise dashboard thread then your name will be recorded against this along with the date it was adjusted.
Collaboration strategy and goal setting
Goal setting is a strategic planning activity, and it can be a very powerful way of engaging your organisation and/or your team in thinking through what you want to achieve from your collaboration platform. Do remember the goals are nothing more than signals that will tell you if you are heading in the right direction, but achieving them is not necessarily success in itself. Collaboration is a means to an end, but not the end itself.
We suggest you approach goal setting the following way:
Decide what the most important business outcomes are for your organisation.

Decide what role the collaboration platform will have delivering these outcomes.

Decide what the collaboration goals should be. SWOOP provides default goals based on what the top 20% of organisations achieve, but you need to confirm these are right for your context.