We've been busy through August and there are some exciting things we've added this month.
First and foremost we've added the "Seen" count to the most engaging post report in SWOOP for Viva Engage. Lots of customers have asked for this, so we are pleased to be able to show how many people have looked at a thread. You can even sort the report by the views if you want to see which posts where most visible in your network, as opposed to the ones with the most replies or reactions.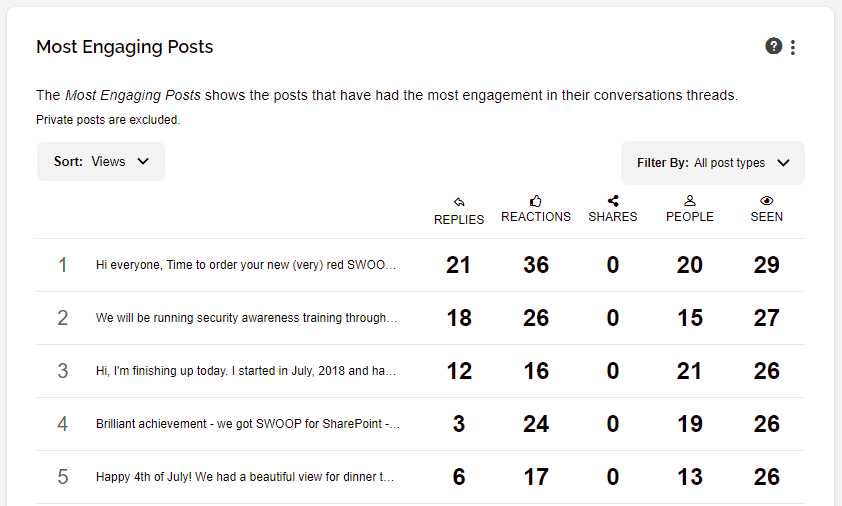 Also in SWOOP for Viva Engage we've added Storylines as a filter at the enterprise level. This means you can get the analytics for all posts or dive into the ones that are posted as Storylines rather than in a Community.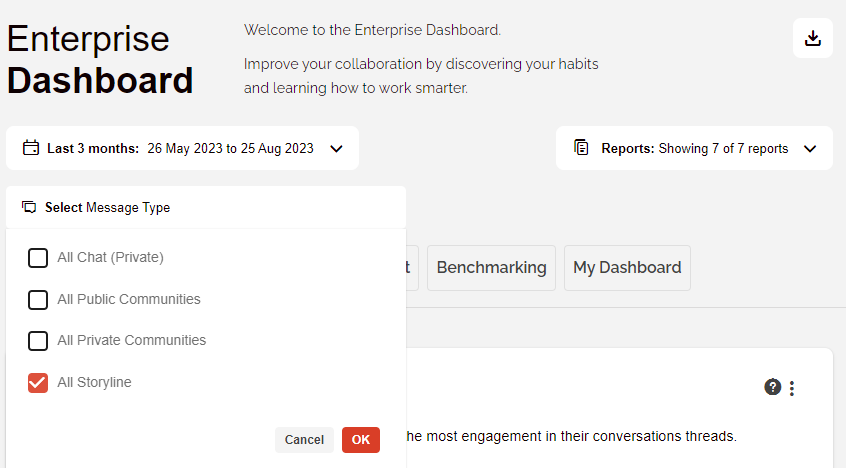 We've added a new report in SWOOP for SharePoint. Influential Editors will show you who's pages are reaching the most visitors, along with the number of pages they've edited and how many times.
Here's all the major updates this month:
Update
Platform
Information
Updated
Improvements to selecting reports in dashboards in SWOOP for SharePoint

SharePoint

We've tidied things up to make sure you can select which reports to display on a dashboard tab. This means you can remove from view the reports you don't want to see and save this set up. You can add the reports back if you need them in the future
Aug-23
Fix to dashboard settings in SWOOP for SharePoint

SharePoint

We've fixed an issue in the admin area where the dashboard settings for certain reports were not saving. This has now been corrected and admins can select which reports show by default across the different dashboards
Aug-23
Export button styling

SharePoint

Fix small styling issue with Export button.
Aug-23
Influential Editors report in SWOOP for SharePoint

SharePoint

We've added a new report that shows you the people that are editing page and how many visitors their pages are reaching. This will help you identify which editors have the biggest impact on your intranet visitors
Aug-23
Response time added to individual benchmarking report

Teams

Yammer

Workplace

We've added the detail of what percentage of posts an individual replies to within 1 hour, within 24 hours or after 24 hours. This can be found in the Individual Benchmarking reports on SWOOP for Viva Engage, Workplace and Teams. It will help you see if people are quick to respond in general or prefer to take their time when replying.
Aug-23
Alignment of handling date ranges

Teams

Yammer

M365

Workplace

SharePoint

We've updated the way we handle date ranges so these are dealt with consistently
Aug-23
Seen counts now available in Most Engaging Post for SWOOP for Viva Engage

Yammer

One of our most requested improvements is now in production. We've added in the Seen counts for posts into our Most Engaging Posts report. This allows you to check and sort posts by the number of times they been seen.
Aug-23
Additional export options for Groups and User now in the Data Export Admin panel

Teams

Yammer

M365

Workplace

SharePoint

We've updated our admin panel so the option to include group or user names in the export data is now available to SWOOP admins. This function was previously available only in the miner admin screens which meant their was limited access.
Aug-23
Storyline filter available on Enterprise dashboard

Yammer

On the Enterprise Dashboard you can now select 'Storylines' from the dropdown and thereby see all the insights for this post type.
Aug-23