What is the Teaming Champion report?
For those organisations undertaking a managed rollout of Teams, the use of "Teaming Champions" is often essential for accelerating broad-based adoption. Teaming champions are often early adopters who have mastered the craft of digital teaming within the teams they operate. Because they are active in multiple teams, each team gets the benefit of their diverse experience. As a group, the Teaming Champions could represent a significant proportion of the organisation's best performing teams; and therefore provide the catalyst for adoption organisation-wide.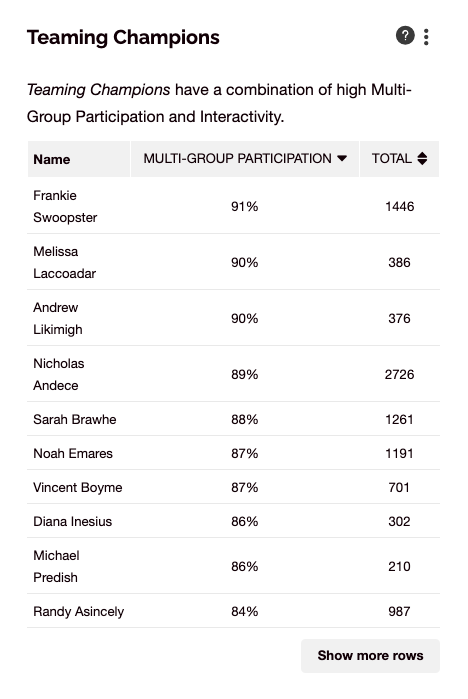 How to use the Teaming Champion report?
The Teaming Champions report provides a ranked list of those staff members who are most active across multiple teams. Each champion will have scored highly on their Multi-Group Participation index. This candidate list of Teaming Champions can be reviewed for the potential recruitment into a Teaming Champions program. The intention would be to spread best teaming practices from their own experiences, with other teams; either as a guest member or a fully-fledged team member. The list is sortable to assist with the selection process.
Connect and discuss
Want to talk with others about this? Join our User Group on LinkedIn.