What is Team Stability?
Harvard University Team effectiveness guru Richard J. Hackman wrote; "Real work teams in organisations have four features: a team task, clear boundaries, clearly specified authority to manage their own work processes, and membership stability over some reasonable period of time". This report looks to assess the stability of a team over time. Stability is measured by looking at the variability of the top five most active team members from week to week.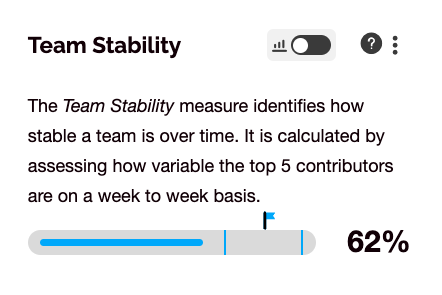 How to use Team Stability
If the top five remained the same each week over a 12-week period, the team would be assigned a 100% stability score. If the top five varied by just one member from one week to the next, we assign an 80% stability for that particular week. The overall %stability was the average of the week-to-week stability scores over the full 12-week period.
A good community of practice will have a strong and stable core of members. Single leader teams may have a small number of trusted lieutenants, supporting the leader. A high performing self-directed team will have all members consistently active. A Forum may be like a single leader team, having a 'leadership' sub-group sustaining the forum.
In general stability is good for team performances, however, we need to be aware that for larger groups, a stable core can also lock out diversity and innovation.
Connect and discuss
Want to talk with others about this? Join our User Group on LinkedIn.