What is Team Channel Activity?
This report shows the top 10 channels by activity, number of users and percentage of active users. Dividing team conversations into themes or channels means the whole team does not need to be distracted by topics that are relevant only to a subset of the team.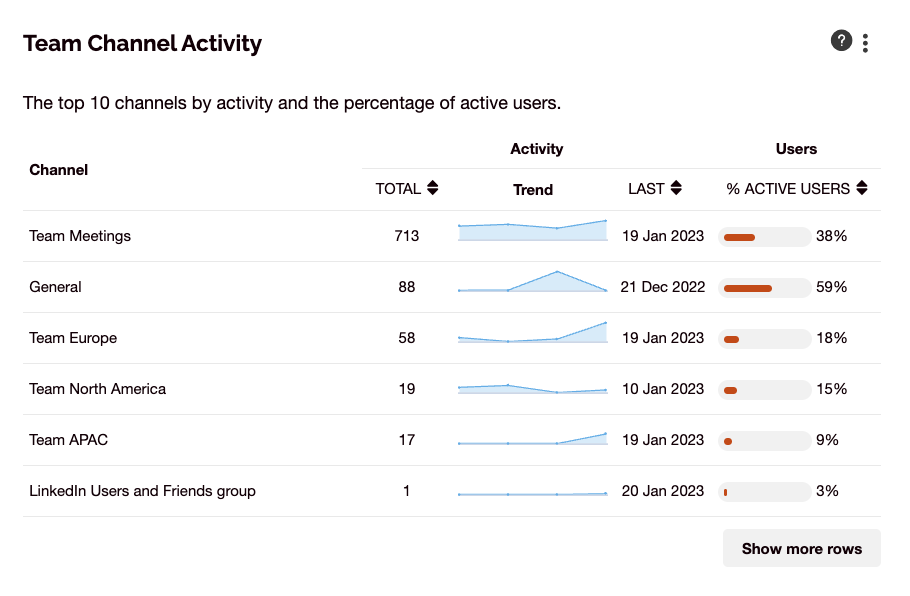 How to use Team Channel Activity
Team Context
It is good practice to create channels for discussions of interest to a subset of the team. Be sure, however, to monitor this report for channels that have become dormant over time. Perhaps the issue being discussed was time sensitive. These channels should be removed or archived to avoid team clutter amongst the channels.
The Team Channel report can be useful when onboarding new team members, providing them with a quick way of identifying the team's hot topics and concerns. It can also be an indicator as to whether the team's work is being portioned appropriately. For example, is the channel where the majority of interactions are happening?
Connect and discuss
Want to talk with others about this? Join our User Group on LinkedIn.