What is the Persona Distribution?
When we hear the term "Personas" we often associate them with profiles that marketing organisations develop to categorise the buying behaviours of consumers for targeted attention. Personas are therefore strongly linked to behaviours. In the world of Teams, we are also very much interested in the collaboration behaviours that have been facilitated by the online Teams environment.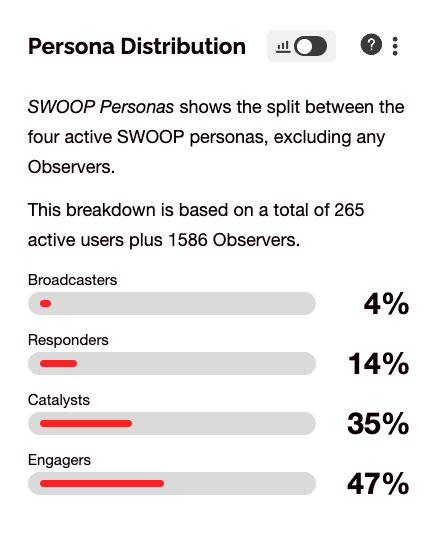 We identify those users who have interacted on the platform less than once every two weeks and classify them as "Observers". For those that have interacted more than once every two weeks, we then break them up according to our Give-Receive balance measure. The Give-Receive balance was inspired by Wharton Professor Adam Grant's In the Company of Givers and Takers and Sandy Pentland's The Science of Building Great Teams. Grant identifies Givers operating in organisations with a 'giving culture' are the strongest performers. And it is the 'Matchers' that balance give and receive, who help create that culture, by marginalising the Takers.
Pentland identifies a balance between talking/listening being apparent in strong performing teams. Our Give-Receive measure simply balances contributions made e.g. 'non-orphan' posts, replies, likes and mentions made and replies, likes and mentions received. We classify those active participants who are able to balance their giving and receiving as "Engagers". The Engager is our aspirational profile, in that we believe these people are the heart of the network, successfully balancing, talking and listening online.
For those people who are active but lean toward the "Receiver" side, we label "Catalysts". These are people who are able to attract significant responses (replies, likes and mentions) from relatively fewer contributions. Perhaps the team leader becomes a natural catalyst, facilitated by the role they are playing.
For those active participants who fall toward the "Giver" side, it infers they make far more contributions than reactions they gain. We further partition them into "Responders" or "Broadcasters". We classify 'orphan posts' as those that attract no reactions. If the number of orphan posts exceeds the total of all replies, likes and mentions received, we classify you as a 'Broadcaster'. Otherwise we classify you as a 'Responder', i.e. the listeners in the team.
We classify the Engager, Catalyst and Responder personas as positive and the Observer and Broadcaster personas as negative. We believe high performing teams will have a higher proportion of the Engager persona. And this appears to be the case from our benchmarking studies.
How to use the Persona Distribution
Individual/Personal Context
The research indicates a team of 'Engagers' is the optimum behavioural composition. If you are active and balancing your give and receive across all your fellow team members, then you will be classified as an 'Engager'. There may be situations where you adopt, say, a Catalyst role to instigate a new initiative or change in the team. There may also be periods where you behave more as a Responder, if you are periodically being distracted by perhaps other team commitments (you might show a different behavioural persona for different teams). Ultimately, you should always aim to sustain an 'Engager' persona in all teams you participate in. Avoid being an Observer or Broadcaster in
your teams.
Enterprise Context
In the non-personal context, the Persona Distribution identifies how the behavioural personas are distributed across the membership. We anticipate at the Enterprise level, all personas will be represented, especially if the selected time window is short.
A persona distribution with a majority of Engagers, followed by Catalysts, Responders, Broadcasters and Observers is sought, with Broadcasters and Observers as close to zero as possible.
Connect and discuss
Want to talk with others about this? Join our User Group on LinkedIn.