What is Multi-Group Participation?
The Multi-Group Participation report measures the degree to which an individual is active across multiple teams. The research tells us high performing teams have members that have been able to explore beyond the confines of the team, to bring experiences and knowledge gained back to the team. We would anticipate not all team members will be members of multiple teams, but a high performing team should at least have one or two members that are also active members of other teams.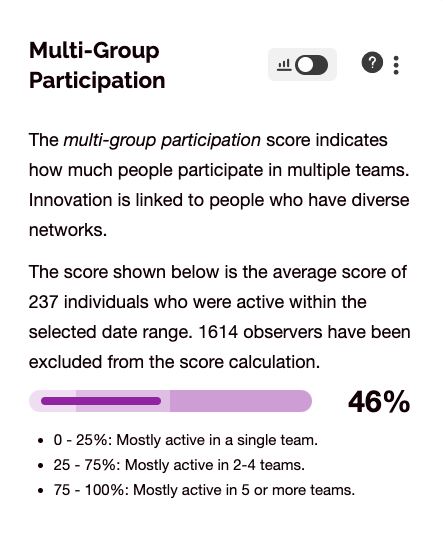 How to use Multi-Group Participation
Team Context
As a high performing team, you must look to avoid the situation
of zero or low diversity. If you are in this situation, you are running the risk of being misaligned with the overall organisational mission
and context. Being too diverse, however, could also result in impacting your ability to execute, as team members become distracted by other team commitments.
Be sure at least one or two of your team is also working with other teams aligned with your purpose. Use them to ensure your team activities are organisationally aligned.
Enterprise Context
At the Enterprise and Segment level, the Multi-Group Participation index reflects how interconnected your teams are likely to be. The extremes of very low Multi-Group Participation and very high Multi-Group Participation can be equally damaging to overall enterprise performance. Low Multi-Group Participation is usually correlated with 'localisation or group think', which can work against achieving an enterprise-wide sense of purpose.
High Multi-Group Participation, as measured by SWOOP, would indicate staff are too thinly spread across multiple teams. This could result in teams having a lack of focus and an inability to effectively execute.
Connect and discuss
Want to talk with others about this? Join our User Group on LinkedIn.