What is the Most Engaging Posts report?
This report ranks posts based on those that received the most 'replies' or 'reactions' over the time frame selected. The report is available on the Personal and Teams tabs and for privacy reasons is secured to the individual or Team. In essence, it identifies those posts that have generated the most reactions. Replies are prioritised, as replies are needed to promote more conversation; something that Teams looks to facilitate.
SWOOP does not store content, only metadata. The posting details are rendered inside the company firewall. Hence, the Most Engaging Posts are not judged on the content, only on the length of the discussion threads. Don't be alarmed if the Most Engaging Post is one from your colleagues organising a birthday lunch.
Dialogue is the heart of value creation on a Teams site. High performing agile teams demonstrate short, sharp interactions, shared across the whole team. Being able to see what is generating the most dialogue on the platform can provide good insights into the topics of most interest to the team.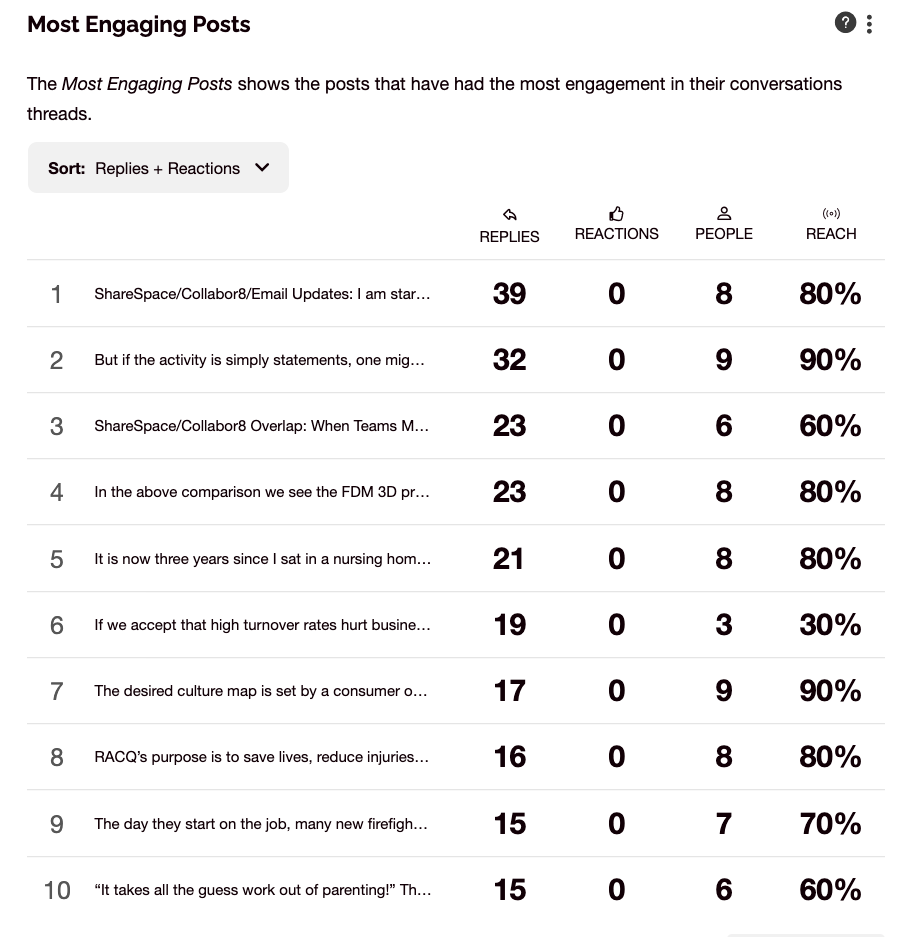 How to use Most Engaging Posts
Individual/Personal Context
Which topics have you led that generated the most dialogue? As a member of a high performing team it is important for you to raise questions or prompt discussion on issues that you feel might impact the team's performance.
Team Context
A high performing team would see a long list of Most Engaging Posts from the breadth of its members. If this is not the case, check your team environment. Do all members feel comfortable leading or prompting new dialogue? Aim to encourage all team members to speak their minds, if they have concerns about team performance.
Connect and discuss
Want to talk with others about this? Join our User Group on LinkedIn.