What is the Curiosity Index?
The Curiosity Index identifies the percentage of posts or replies that are framed as questions. Asking questions not only increases the likelihood of gaining a response, but helps to extend and deepen the online discussions being conducted. The report identifies the %response for posts or replies expressed as questions, against those that aren't.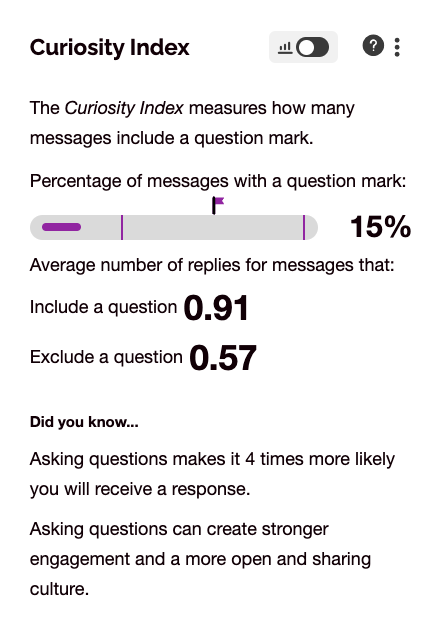 How to use the Curiosity Index
Individual/Personal Context
Your personal curiosity level may be dependent on the type of teams you participate in. If you are a member of highly active agile teams, we would anticipate a higher curiosity score, as members continuously enquire about the task statuses of their colleagues in order to co-ordinate their own work. Alternatively, if your participation is mostly in communities or forums, the frequency of your questioning may be lower. In general, being curious is a positive behaviour on digital platforms.
Team Context
For highly active agile teams, the interaction levels should be frequent and levels of curiosity high, as the team looks to move quickly as a cohesive team. In fact, our benchmarking shows effective Self-Directed Teams are also the most active. For Forums, we would expect a high curiosity level as Forums are Q&A sessions by definition, so a low level of curiosity would flag a poorly performing Forum.
If your group is more of a Community, the curiosity levels may be a little lower than for Forums and Agile teams. The nature of the questioning may be more explorative and less 'tactical' in nature. Single Leader Teams may also exhibit lower levels of questioning, as most of the questioning would be directed only at the leader.
Enterprise Context
The enterprise is likely to be comprised of the full suite of group types. While the different group/team types might make use of questioning for different purposes and at different frequencies, in general, higher levels of curiosity are seen as positive in well performing digital workplaces.
Connect and discuss
Want to talk with others about this? Join our User Group on LinkedIn.