What are Hot Topics?
This report mimics the Most Engaged Posts report by ranking the most popular Yammer topics, hashtags and keywords on your network. Topics are ranked by those that received the most replies and reactions over the time frame selected. Hot Topics identifies those topics that have generated the most overall engagement. Replies are prioritised, as they are needed to promote more conversation.
Unlike posts, topics are usually created to enable a topic theme to be tracked over time. The Hot Topics list is therefore identifying the most popular themes being discussed by staff.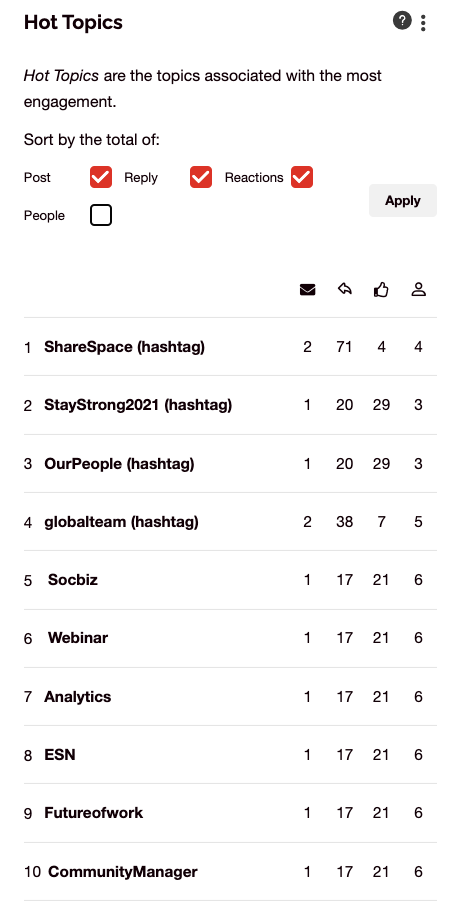 How to use Hot Topics
Organisations are rife with 'initiatives'. Some are corporate led, others may only be of localised interest. Use of hashtags and topics in this instance is vital to accurately analysing an initiative or campaign. SWOOP with automatically group together these conversations for you to ensure the full scope of engagement is captured in the data. Topics and hashtags also make it easy for users to find the information they are looking for.
A quick tip when searching for topics and hashtags in SWOOP, you may also see some variations of the 'official' topic and hashtag names. For example, where users have misspelled or slightly adjusted the tag. You can also capture these in your broader topic searches by selecting multiple topics, hashtags and keywords surfaced in SWOOP.
Using the Hot Topics report allows you to take a pulse of the conversations and initiatives that are resonating the most with staff. To learn how to analyse your recent campaigns against the Hot Topics report, check out Measuring communication campaigns with SWOOP Analytics.
Connect and discuss
Want to talk with others about this? Join our User Group on LinkedIn.