SWOOP classifies certain collaboration characteristics into five different personas: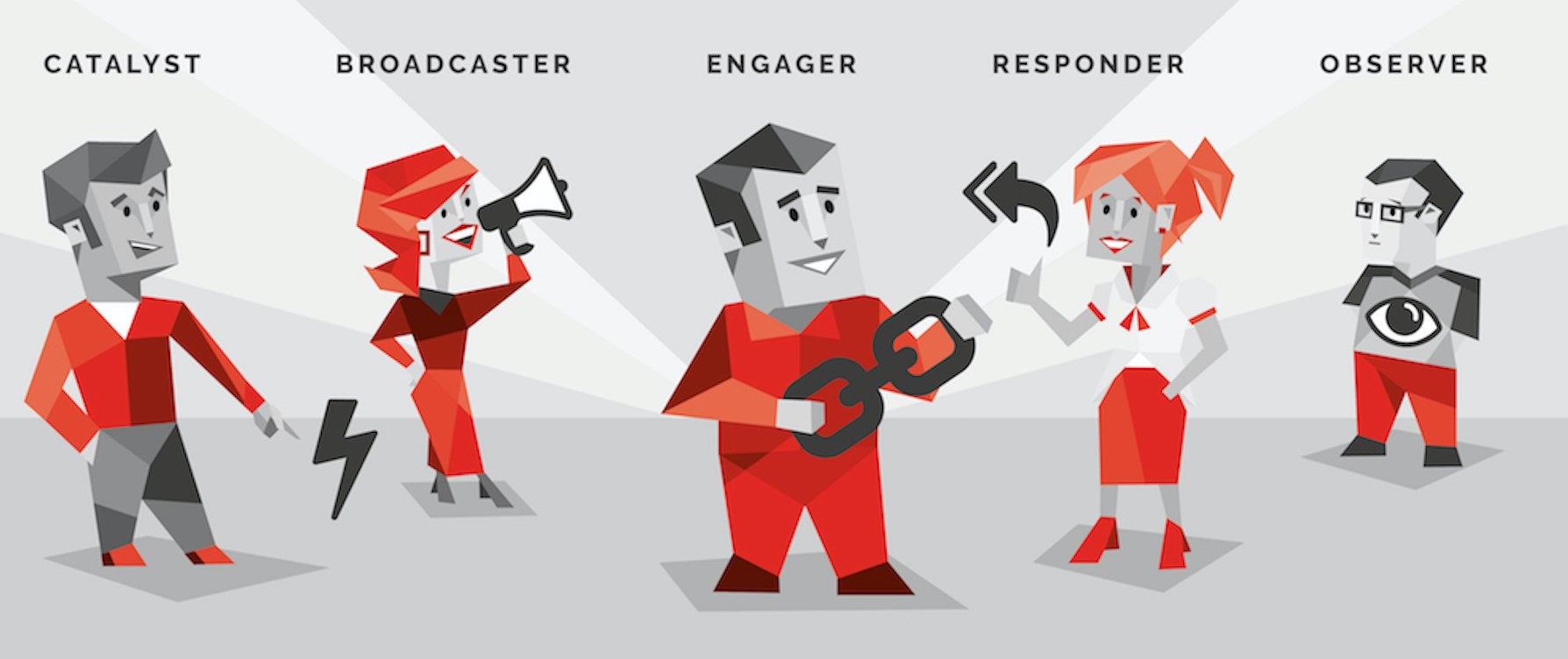 Catalysts: Receive a lot more than they give, e.g. are seeding conversations that leads to a lot of replies/likes.
Broadcaster: Tend to post messages that are not replied to or liked, so the conversation is mostly 'one-way'.
Engager: Will be posting and/or replying and/or liking, but also receives replies and likes in a (roughly) equal amount.
Responder: Tends to reply to others (or clicks 'like'), but post significantly less.
Observer: Interacts less than once every 2 weeks.
In the sections below we go into much deeper detail about each one.
Catalyst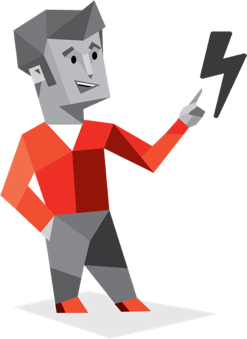 The 'Catalyst' persona is currently calculated as a significant surplus of responses received, over contributions made. Contributions include posts, replies and likes, while responses are replies and likes received. Have a look at your interaction patterns on your favoured social channel to find out if you 'fit the bill'.
'Catalysts' are more commonly labeled as 'Influencers' in the social media world. A 'Catalyst' is able to attract a disproportionate number of responses to their posting contributions. In fact the larger the number of responses that they can gain from a single post, the more influential and valued they are perceived. A good 'Catalyst' will gain a reputation and a following from those that value their contributions. It's not a trivial task to become a catalyst/influencer in the social media world. They are sought after by advertisers because of the strength of their following.
In the enterprise context, influencing in the advertising context may be less valued. However 'Catalysts' will be commonly associated with innovation and positive change; something that should beimportant to all teams and communities to differing extents. A strategy, marketing or business improvement community would be positively impacted by the presence of Catalysts. Alternatively, business process execution teams, who live by standard process compliance, could be disrupted negatively by the presence of 'Catalysts'.
If the roles you aspire to are to be the change agent and/or disrupter of the status quo, then developing your skills to achieve the 'Catalyst' persona may be for you. You can't however just decide to become a 'Catalyst'. The trick is to be able to consistently attract multiple responses on things you post; something you can't control directly. Have a look at this link to this question on Quora on how to become influential.  Note that building relationships is a key pre-condition. Being seen as a reliable and constructive 'Responder' or 'Engager' can perhaps be a required path on the journey towards becoming a successful 'Catalyst'.
In summary, the 'Catalyst' persona is, we believe, the next most positive persona after Engager. For those that thrive in leading positive change and innovation, being a Catalyst online and off can be the most positive contribution you can make to your Enterprise. Unlike the 'Engager', a team or community full of 'Catalysts' are unlikely to the productive though.
Broadcaster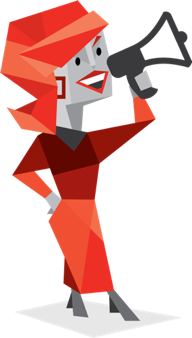 Like the 'Responder' persona, the 'Broadcaster' is calculated as having a significant surplus of contributions made, over responses received. Broadcasters are differentiated from Responders due to the original posts outnumbering the number of replies they provide.
'Broadcasters' as the name infers, suggest that these people have a bias toward publishing over the more conversational aspects that would include more liberal use of the 'reply' and 'like' contributions. Because a collaboration platform is founded on active and engaged conversations, the 'Broadcaster' persona is generally seen as negative. That said, there would be instances where an individual might correctly adopt a 'Broadcaster' persona. For example, if you are responsible for launching a brand new initiative, say like a new marketing campaign, or organizing an event. For a limited time you would be required to undertake substantial original postings to begin the initiative.
While the 'Broadcaster' persona may be considered a negative one, it could be that circumstances may require you to adopt this profile from time to time. The important principle however is that it should not be considered a persona to aspire to permanently. If you feel that your role requires you to continuously adopt a 'Broadcaster' persona, you may want to consider whether the collaboration platform is the appropriate vehicle for you. It is likely that your organisation will have other platforms for publishing content e.g. Intranet, Document Management Systems etc..
In summary, the 'Broadcaster' persona tends to prioritize publishing over conversation. It is generally seen as a negative persona, unless used sparingly for situation specific instances. We do not see productive communities or teams having or needing regular 'Broadcaster' members.
Engager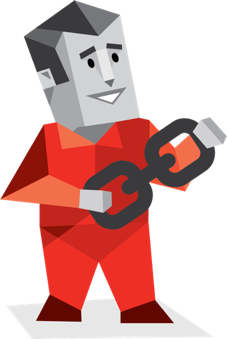 The 'Engager' persona is calculated as a balance of all contributions made against responses received. Contributions include posts, replies and likes, while responses are replies and likes. 
According to the research on the positive collaborative behaviors that contribute to superior performance, the balance of give-receive is a key indicator. In his book "Social Physics" , MIT's Sandy Pentland identifies team members with a balance of give and receive are associated with high performing teams. Pentland goes further by using wearable social tags, he was able to identify the nature of the interactions also being short, sharp and frequent. For high performing teams, relationships have matured to the point where tacit knowledge exchanges do not require extensive explanations and justifications. Average message length could capture this dynamic, though we are yet to implement this.
We see 'Engagers' as the glue that keeps teams and communities engaged. They are the brokers and connectors. Without 'Engagers', a community or team risk disconnected conversations and therefore unproductive interactions. Is there a problem having a team full of engagers? In most instances we would say no, as this would indicate the team or community is buzzing along in a highly productive way. The exception we would make is when an injection of new thoughts or innovations are required. For that we see the need for some 'Catalysts' to be added to the mix.
Based on the benchmarking we have done to date, it is not easy to become and sustain the 'Engager' persona. We believe that everyone should aspire to develop skills to enable them to become and sustain engager status. In this way you will have the skills to be a productive member of any team or community. It will require you to be mindful of your contribution patterns and the sorts of posts and replies that you make, that may or may not attract reactions from your colleagues.
There will however, be times where it may be appropriate for you to adopt a different behavioural persona. For example, if the team or community is looking for fresh ideas and positive change, the 'Catalyst' persona may be more appropriate for you, if you want to lead that change. In other contexts you may be looking to sustain interactions in a community or team, where the 'Responder' persona may be a positive one for you.
In summary, the 'Engager' persona is, we believe, the most positive persona to exhibit online and off. Those that have developed the skills to switch into and sustain this mode of interactions, will always be a sought after team or community member.
Responder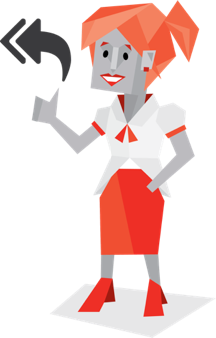 The 'Responder' persona is currently calculated as a significant surplus of contributions made, over responses received. Contributions include posts, replies and likes, while responses are replies and likes.
'Responders' are the 'care givers' in teams or communities. They make sure that fellow members are not left out on a limb with no responses to their contributions. While they may not be a source of insightful posts that gain large numbers of responses, they are regular responders themselves, by way of replies or likes. Their positive contribution is provided by the way they ensure their fellow members become part of conversations. Of course in a Q&A context they could also be our specialist experts.
High performing 'Responders' will prefer a formal reply over a simple like. They make it their business to ensure that no question goes unanswered, often referring questions to those they believe can help, if they can't answer directly. In this way they may also play an 'Engager' role from time to time.
Formal 'community managers' are the archetype 'Responder'. As community managers their role is to facilitate the growth and sustainability of their respective community. Inside a team, the team leader may sometimes play this role during a team-building phase. For more established teams the team co-ordinator/administrator may adopt this role. If you have a natural preference for care giving, this is the role for you.
In summary, the 'Responder' persona is one of the three most positive personas, with the 'Catalyst' and 'Engager'. For those that have a preference for care giving and nurturing, as well as ensuring that everyone is in a good collaborative mindset, then being a 'Responder' could be for you. A team full of responders will be a comfortable and happy place to work, though perhaps not as productive as ones that contain 'Engagers' and 'Catalysts' as well.
Observer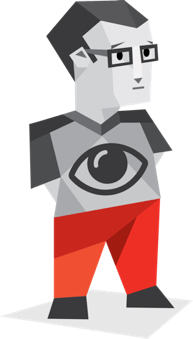 The 'Observer' persona is simply calculated against a minimum activity level. Whereas it is now possible to extract 'seen by' data in Workplace, it is not yet possible in Yammer so we only include  those that have at some time clicked at least 'like', 'reply' etc. Somewhat arbitrarily we have classified anyone who has interacted on the platform less than once every 2 weeks, over a 3 month period, as an 'Observer'.
The 'Observer' persona is the most populous of the personas, accounting on average, close to 80% of all participants, in the benchmarking studies done to date. We believe this reflects the maturity (or lack thereof) of many of the corporate social networking platforms; as Charlene Li has written about here. An alternative argument is that Enterprise Social Networks can still add value even with lower participation rates i.e. the 'lurker' value proposition. Research from IBM indicates that there are a variety of community types that can form within Enterprises (Community of Practice, Team, Technical Support, Idea Lab, Recreation), which demonstrate different patterns of connectivity. One could reasonably argue that a Technical Support community adds value by making experts available to less expert 'Observers'; and therefore a larger number of observers is expected. The same argument however could not be made for a Team, Idea Lab or Community of Practice, where the fundamental design is for inclusive membership.
As our analytics framework targets collaboration, and as observation is a one-way channel, the 'Observer' is seen as negative persona. This is not to say that the platform is not providing value to 'Observers'; it most probably is. However we believe that the most productive value that can be gained from a social networking platform is when people collaborate. Consistent and frequent collaboration demonstrates continuous knowledge sharing, co-operation, co-ordination and therefore performance. In our view the 'Observer', with perhaps the exception of Technical Support users, should always be looking to upgrade their status to one of the more positive personas.
If you are one of the on average 80% of enterprise staff who are classified as 'Observers', you may want to reflect on what the impact on your career might be by staying on the sidelines. While currently you may feel comfortable being part of the majority, there is clear evidence that the leaders of the future are those that can pro-actively build their relationship networks. You may think that you can do most of your networking and relationship building off-line, but the digital divide is rapidly disappearing.
Of course there are situations where being an 'Observer' is appropriate. If you are new to social media or indeed new to the organisation, it would be prudent to spend some time observing the network interactions, understanding who the network leaders are and what the unwritten protocols might be. However, like the 'Broadcaster' persona, it should only ever be a temporary status for you. Once you are confident on the value you could add as one of the positive personas, you should jump in and start interacting.
In summary, the 'Observer' persona is passive and from a collaboration perspective, seen as a negative persona. The current status quo however is that the vast majority of participants on social networking platforms are 'Observers'. The reasons for this are complex and have been explored previously. Some of the issues are related to multi- technology platform channels i.e. collaboration is evidenced say more in email or other messaging platforms. Overall however, we believe that the collaboration persona classifications can stand independent of the technical platforms being used. Ultimately it will/may be necessary to draw data from multiple digital channels to accurately represent an individual's true collaboration persona.