Administrators can add user attribute data (e.g. department, city etc) automatically by connecting the SWOOP miner to Azure Active Directory. These steps need to be carried by the O365 Administrator:
Step-by-step guide
The following link can be used as a guide to operate the Azure console:  https://azure.microsoft.com/en-us/documentation/articles/resource-group-create-service-principal-portal/.
The integrate Azure Active Directory you will need to perform the following steps:
Open the Azure console ( https://manage.windowsazure.com )
Locate the 'ACTIVE DIRECTORY' function in the console (do not use the 'New Portal')
Click on your directory
Click on 'APPLICATIONS'.
Click  at the bottom of the page.
Click on 'Add an application my organisation is developing'.
Enter a name and leave 'WEB APPLICATION AND/OR WEB API' ticket.   Press continue (→)
Enter your miner URL for the 'SIGN ON URL' and 'APP ID URL' (e.g. https://miner-[yoursite].swoopanalytics.com) and press the tick (actually these are not used so it does not matter what they are).
Click on 'CONFIGURE'.  On this page change only the following:

Under 'keys' click next to 'Select dur...'  and pick '2 Years'
At the bottom where is says 'permissions to other applications' click on 'Application Permissions:' and select 'Read Directory Data'.
Next it is click on 'Delegated Permissions' and select only 'Read directory data', 'Read all users' full profiles' and 'Read all users' basic profile'

Press 'SAVE' at the bottom of the page.

In the SWOOP data miner, now do the following: 
Tick 'Enabled' next to 'Azure Active Directory Integration'
Copy the 'CLIENT ID' and key value from AZURE to the 'Client ID' and 'Client Secret' on the miner.
Press 'Save Changes/Login'
Your miner page should look something like this if the operation is successful: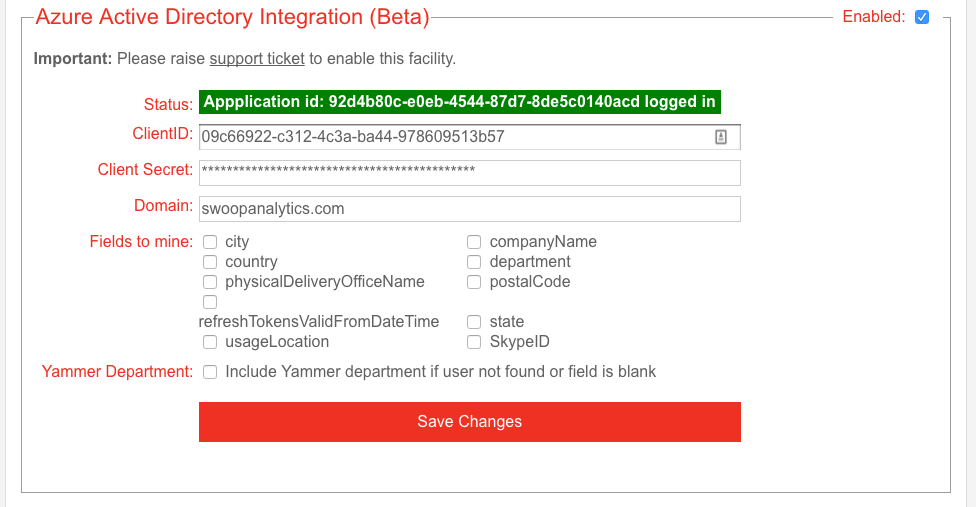 Now select the fields from that you would like to share with SWOOP.
How it works
The SWOOP data miner retrieves data from Azure AD and combines it with the sanitised data from Yammer.  The email field is hashed, and is therefore not passed to the SWOOP Analytics Engine.