If you are considering SWOOP for Yammer, then a trial is the way to go. There's nothing like seeing your own data through SWOOP. There are only a couple of simple steps involved, but before starting you need to check a few things:
Check #1: Is 3rd party application access on or off?
Has 'third party access' been enabled in Yammer? To check this you need to be a 'Verified Admin' in Yammer. Log in to Yammer and click on Network Admin / Configuration. Scroll down and see if '3rd Part Applications' is ticked or not: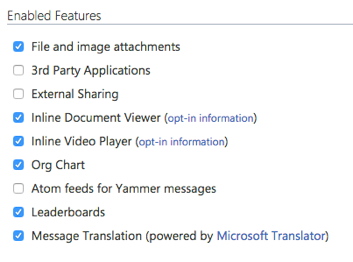 If it it ticked, then proceed to the steps below. If not, then you need to create an app for SWOOP. But don't worry...that is pretty easy. See instructions here - Create a 'third party' application on Yammer. Come back here when you've created the app.
Check #2: Create a dedicated system account for data mining (recommended).
We recommend that you create a dedicated Yammer account for SWOOP that is not associated with a person. Call it for example "SWOOP Data Miner". It is very important that this account is assigned the rights of a 'Verified Admin" (does not need to be an Office365 Admin). This is not strictly required for the trial, but it is good practice as it helps ensure that the data mining process isn't interrupted by a person inadvertently being locked out of Yammer, and also means that the verified admin doesn't get annoyed by a very visible "Private Content Mode Enabled" in Yammer.
With these two checks out of the way, you can now getting started on setting up the trial.
Step-by-step guide to set up trial
Go to the SWOOP set up URL (ask your SWOOP representative for this) and click on 'Yammer'.
Pick the Yammer network you're interested in from the dropdown
Claim your SWOOP site name. This will be the URL you'll use to access SWOOP.
Choose where you want SWOOP to store the data we collect.
Provide us with your contact details in case something goes wrong.
You'll receive an email once you have submitted the form and another one once your SWOOP site it ready.
Below is an example of the trial sign up screen: