If you are considering SWOOP for Viva Engage, then a trial is the way to go. There's nothing like seeing your own data through SWOOP. Before moving forward however, you need to revisit some key concepts regarding 3rd and 1st party applications.
Integration with 3rd party application is required when an external application seamlessly communicates with Viva Engage for its setup as well as operation. Viva Engage provides an option to enable 3rd Party applications however, this would allow integration of any 3rd party application, not just SWOOP. This scenario may not be feasible for some organizations.
To overcome this concern, 1st Party application can be used that gives you better, selective control of integration. The 1st party application requires you to configure an Viva Engage application with all parameters needed to be entered manually.
SWOOP Analytics can be integrated with your Viva Engage by either of 3rd or 1st Party access.
Here are steps involved:
Step #1: Check if 3rd party application access on or off
Has 'third party access' been enabled in Viva Engage? To check this you need to be a 'Verified Admin' in Viva Engage. Log in to Viva Engage and click on Network Admin -> Configuration. Scroll down to '
Enabled Features'
and see if '3rd Party Applications' is ticked or not: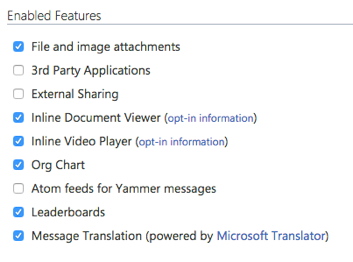 Step #2: Create your SWOOP Analytics site
The next step in the process depends on whether or not '3rd Party Applications' is ticked:
Once the above is complete please proceed to the next step.
Step #3: Create and activate a dedicated system account for data mining (recommended)
This step is not strictly required for the trial, but it is highly recommended as it helps ensure that the data mining process isn't interrupted by a person inadvertently being locked out of Viva Engage, and also means that the verified admin doesn't get annoyed by a very visible "Private Content Mode Enabled" alert in Viva Engage.
Create a dedicated Viva Engage account for SWOOP that is not associated with a person (call it say "SWOOP Data Miner"). It is very important that this account is assigned the rights of a 'Verified Admin" (does not need to be an Office365 Admin).
If you have created a 1st Party application on Viva Engage, then you'll need do to one more thing to manually initiate the data mining process. This is not required where 3rd Party Application are allowed as the data-mining starts automatically.
Therefore, to activate data-mining you will need to log in to the SWOOP miner and set the account. As your SWOOP representative for the specific URL to your SWOOP data-miner.
After logging in, click on the 'Set Miner to Current User' button.